Connecticut Society of Portrait Artists

501 (c) 3

Non-profit educational organization.

~ Contributions ~


                             All financial

                         gifts benefit the





CSOPA's exhibits
                   programs, and activities.

               > Sponsor an Art Exhibition

                       > Name an Award

                      > Underwrite Costs

               > Create a Scholarship Fund

                     > Fund our Newsletter

                   > Other as you choose...

Contributions of Time and Expertise are Equally Welcome!

Write us telling how you might like to contribute to CSOPA and our mission to promote the classsic art of portraiture in Connecticut.... An officer will get in touch with you promptly.   Thank you!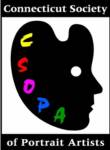 To find out more about how to make your gift to CSOPA, complete form below and submit. An officer will contact you.

CSOPA Supporters:

A.I. Friedman Art Supply

Art Supply Warehouse

Daniel Smith Art Supply

Geary Gallery

Images Gallery and Framers

Paul Flynn Wines

Stroke of Genius

Sophia James

Jeanine Jackson

Nancy Swendsen

Silver Brush